Great inventors as they are, Germans have come up with a number of great ideas for indoor-activities and fun.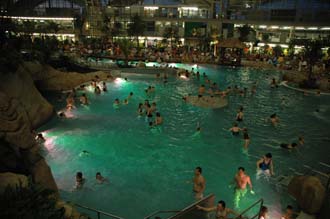 One of them is
Tropical Island
in Krausnick between Berlin and Dresden, Europe's largest tropical indoor water party offering you the world's biggest indoor rainforest, Europe's largest sauna and spa area, a 650 ft long white, sandy beach and the perfect temperature all year long in an indoor space as big as eight soccer fields! Enjoy shows, good food and relax in this vacation paradise featuring Samoan, Thai, Balinese and African theme worlds. Overnights for every budget can be booked either in one of the hotels, holiday apartments or on a nearby campsite.
The
Heaven's Gate
in Munich is Germany's largest indoor rock climbing center and also a perfect way to spend a day inside! The total area compromises 11,480 square feet with up to 100 ft high climbing walls. The center is suitable for beginners as well as advanced climbers and features different levels of difficulty.
In Bremen you can uncover the miracles of mankind, the earth, and cosmos by using all your senses at the
Universum Bremen
. The Science Center has more than 250 different exhibits, experimentation stations, spatial installations and media installations you can explore and actually try out. Climb up the Stone Hill, play on the Earth Xylophone or learn why stars twinkle, explore the mysteries of light and shadow and much more.
For those desperate for snow there is an ideal place, as well: The
Snow Dome
in Bispingen near Hamburg is Europe's most modern indoor ski venue comprising snow area of 77,100 square feet with 13 different snow guns producing fresh snow every day. Come for some fun in the snow!
There are so many indoor possibilities in Germany for you to explore, that fun is guaranteed no matter what the weather outside looks like!