There are so many wonderful things to see and do in Germany at Christmas. Stroll through festively decorated streets and explore the enchanting Christmas markets with their seasonal music and choir singing. Listen to the sounds of bells and trumpeters and attend one of the many concerts from classical to gospel in the churches and on outdoor stages. Adorned with decorations and festively lit, the pedestrian precincts and shopping centres offer everything your heart could desire. The arts and entertainment scene also takes a seasonal turn in December: in Germany's major cities, you'll find everything from plays, operettas and musicals to spellbinding readings. In addition, theme parks are open throughout Christmas for their winter seasons – take the whole family to magical Europa-Park Rust, a winter wonderland in white brimming with thrills, spills and surprises. There are also numerous winter sports you can get involved in and high-profile events such as the New Year ski jumping in Garmisch-Partenkirchen. You see, it's not just Christmas trees and twinkling lights, Germany has something for everyone during the festive season. Click here for more information on the best 10 things to do in Germany during Winter.
Some of the German Specialties Recipes for the Holiday Season:
Christmas baked apples:
Ingredients: 4 large, tart apples 10g (1 tbsp) butter 4 tsps raisins Flaked almonds Honey-water mixture To prepare: Wash the apples, then remove the stalk, the core and the pips with an apple corer. Make a horizontal cut around each apple so it won't burst. Place in a greased shallow ovenproof dish then fill with raisins and flaked almonds. Sprinkle with cinnamon and pour honey-water mixture into the top. Bake on a low shelf at 200°C for approx. 30 mins. Leave the apples to cool, then serve.
Glühwein - mulled wine:
Ingredients: 1 litre dry red wine 1 unwaxed lemon 2 cinnamon sticks 3 cloves 3 tbsp sugar Cardamom to taste To prepare: Heat the red wine. Slice the lemon and add to the hot red wine together with the cinnamon, cloves, cardamom and sugar. Heat for approx. 5 mins. then remove from the heat. Cover and allow to infuse for 1 hour. Reheat and pass through a sieve before serving.
Gingerbred men:
Bake our gingerbread men at home using this easy traditional recipe. Melt together 50g clarified butter, 300g honey and 100g sugar - do not boil, allow to cool slightly. Work 300g flour, 2 eggs, salt, 150g ground almonds, 15g mixed spice and the honey mixture into a dough - cover and allow to stand at room temperature for at least 48 hours. 1/2 tsp. bicarbonate of soda, 1/2 tsp. baker's ammonia - mix each with 1 tbsp. of water and work into the dough. Roll out the mixture, cut the shapes out and decorate. Bake for 10-15 mins. at 180 degrees C and allow to cool.
Spritz cookies:
Ingredients: 200g butter 200g sugar 3 eggs 500g flour 1 packet vanilla sugar To prepare: Beat the butter until foamy, then add the eggs and the sugar mixed with the vanilla sugar. Stir everything together well. Stir in the flour. Using an icing bag, pipe different shapes onto a baking sheet covered with baking paper. Bake for around 10-12 minutes at 175°C.
Marzipan Potatoes: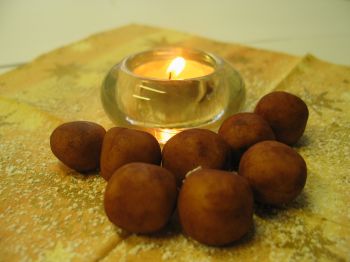 Ingredients: 200g marzipan 100g icing sugar 2cl brown rum 30g cocoa powder To prepare: Knead together the marzipan, icing sugar and rum well, then make into a roll. Cut off equal-size pieces and shape into oval balls. Using a skewer, make irregular indentations in the "potatoes" to resemble the "eyes". Then dust the marzipan potatoes with the cocoa powder until well coated.
Dresdner Christstollen:
Ingredients: 750g flour, 275g butter, 90g sugar, 75g yeast, 185g tepid milk, 500g raisins, 75g chopped sweet almonds, 20g chopped bitter almonds, 70g candied lemon peel, 15g candied orange peel, grated peel of 1/2 lemon, 1 pinch of salt, 1/2 vanilla pod, 1 pinch of ground cinnamon, 1 pinch of ground cardamom, 1 pinch of ground mace. Preparation: Sift some of the flour onto the work surface and make a well in the centre. Break up the yeast, add a little of the milk and sugar and mix to a loose dough. Dust with flour and leave to rest for approx. 15 mins. Next work to a firm dough adding the rest of the flour and milk and the butter cut into pieces. Leave the dough to rest in a warm place for approx. 20 mins. in a bowl covered with a tea towel. Mix the other ingredients well and knead them into the "stollen" mixture. Allow to rest for another 20 mins. then shape into a "stollen" and make two grooves lengthways. Place on a greased baking tray and bake in a preheated oven at 160 degrees C for between 35 and 50 mins. Once cooled, spread generously with melted butter. Leave for 2-3 weeks and then dust with icing sugar before serving.
Pharisäer:
Ingredients: coffee, a swig of rum, whipping cream (100g) and a teaspoon of sugar Make a strong black coffee in a tall glass and add the rum. While the coffee is brewing, mix the sugar with the cream and whip until stiff. Use this to crown your drink and then sit back and enjoy.
2011 Christmas Markets & Fairs: