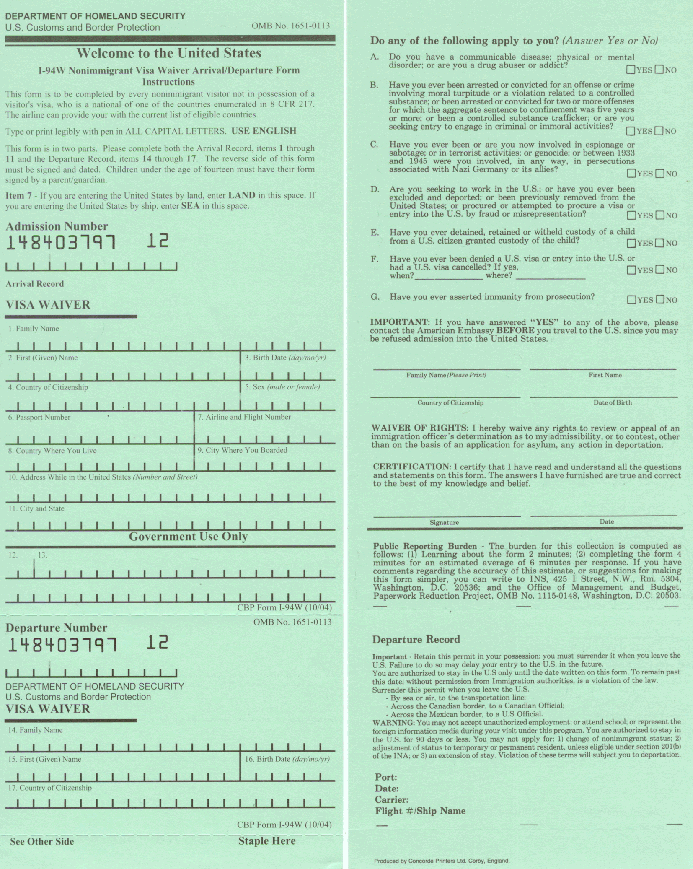 Paper Arrival/Departure Forms for Visa Waiver Program Travelers to be Eliminated
- The U.S. Department of Homeland Security has announced that following a successful seven-month pilot program conducted with the support of the Government of New Zealand on Air New Zealand flights from Auckland to Los Angeles International Airport, the use of paper I-94W forms will be eliminated for travelers from countries participating in the Visa Waiver Program (VWP) with an approved Electronic System for Travel Authorization (ESTA) arriving in the United States at all airports by the end of this summer. U.S. Customs and Border Protection (CBP) will activate automated processing for U.S. airports on a rolling basis over the next several months.
The elimination of the paper I-94W form enables travelers to provide basic biographical, travel and eligibility information automatically through ESTA prior to departure for the United States. The CBP recommends that travelers submit ESTA applications as soon as an applicant begins making travel plans. ESTA applications may be submitted at any time prior to travel, and once approved, will be valid for two years or until the applicant's passport expires. For more information about ESTA, please visit
cbp.gov
.